New York Times Portraits of Grief
LOOKING FOR MEANING
Richard Stewart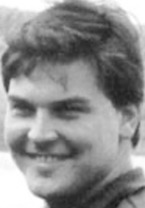 Hockey brought him records and rings, but Richard Stewart did not think of those times as his glory days, because he had set his eyes on a new goal after moving to New York. Mr. Stewart, 35, involved himself in St. James Episcopal Church on the Upper East Side, where he lived. He served meals to the homeless on Friday nights and was active in the church's young adult group.
"It was fairly clear to us that Rich was looking for more meaning in his life," said the Rev. Craig Townsend, associate rector of St. James. "Most people here didn't know anything about his being a hockey star."
Mr. Stewart started skating at 4, and by the time he was 16 had set the season record for goals scored at the Upland Country Day School in Kennett Square, Pa., a record that lasted 13 years. He went on to become a part of the St. Lawrence University hockey team that made it to the National Collegiate Athletic Association finals in 1988, and is in the university's hall of fame.
Mr. Stewart remained a hockey fan when he started working as a broker for Cantor Fitzgerald six years ago. He put away his skates, but not the helping hand. "Richie was always helping people, no matter who they were," said his mother, Joan. "He lived a spiritual life and always tried to find the bright side of a situation."